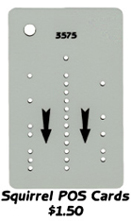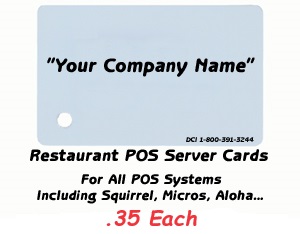 Squirrel POS Cards (On Sale - $1.50 ea.) Restaurant POS Server Cards - (Only .29 ea.)
Restaurant Server Waist Aprons (On Sale - Only $2.25 ea.) Restaurant Server Order Pads - ($42.80 Per Case/100)
Bungees - (.50 ea.) Badge Reels / Card Reels - (.99 ea.)
Head Cleaning Cards - (.79 ea.) Ski Zips / Ski Pass Holders - (.50 ea.)
DCI - (Dynamic Cards, Inc.) supplies Restaurant POS Server Cards, Gift Cards, Restaurant Server / Waitress / Waiter Waist Aprons w/3 Pockets, Restaurant Server Order Pads, Restaurant Name Tags / Name Badges, Badge Reels / Card Reels / Ski Zips / Ski Pass Holders, POS Printer Ribbons and other POS Supplies to the hospitality industry, which mostly consists of restaurants. Our customers range from independent restaurants to large restaurant chains and franchises. We are well known in the hospitality industry for our Low Prices, Superior Service and Quality POS Products. Some of our specialty items are listed below:
Squirrel POS Server Cards

Squirrel POS Manager Cards

Squirrel POS Employee ID Cards

Squirrel POS ID Cards

Squirrel POS Gift Cards

Squirrel POS Rewards Cards

Squirrel POS Loyality Cards

Squirrel POS Head Cleaning Cards

Squirrel POS Printer Ribbons

Squirrel POS Badge Card Reels
Products Compatible w/ Micros POS Systems:
Retractable

Ski Zips - .50

(works great with our Compatible Micros POS Cards)
Products Compatible w/

Aloha POS Systems:
More DCI Products:
POS Systems that we supply compatible products for:
Squirrel POS, Micros POS, Aloha POS, HSI POS, Maitre'D POS, Restaurant
Manager POS, Digital Dining POS, POSitouch POS, Pixel POS, Future POS,
RemanCo POS, Radiant POS, ASI POS, POSiflex POS, Zonal POS, Siva POS,
TEC POS, Next POS, and many more.
For More Info Call Toll Free 1-800-391-3244 or Email us at info@dynamiccardsinc.com